Fake - Anime
By - Matoh Sanami

Shonen Ai/Soft Yaoi
Fake is about two partner detectives(cops) taking a vacation in england and running into a murder mystery. One of the partners is totally in love with the other, hence the yaoi.
First, I didn't like the art. Just to get that out of the way. Second, the anime is just a single chapter in the FAKE books, and it isn't the first one. The writer does a good job working in background, but you still don't know much about the characters, only what you really HAVE to. The episode had a fair plot... it had a plot in the first place, which is a plus, but it was even a good plot. If you are going to watch the anime and read the manga, I suggest watching the anime first, I think it just works out better. *shrug* Oh, and there really isn't much in the way of yaoi-ness. Some making out I think, but no more. It wasn't horrible, it wasn't great... *shrug*
YouTube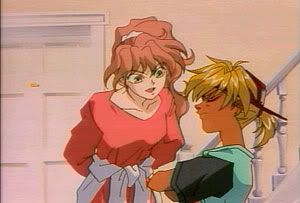 Favorite Part: The murder mystery.